Our annual list of the best Grow Tent Packages of the year is here again, growers. And as the pioneers of grow tent packages in the industry, we're always being asked what the best grow tent is. And answer is simple: it depends. You have you think about the plants you want to grow, how much time you want to spend in the garden, and how much electricity you want to consume.
That's why we got to work putting together our list of the best grow tent packages of 2023. By combining customer feedback, their best features, yield potential, ease of use, overall quality, we've laid out our five favorites.
Don't worry- we know how big value is to growers. That's why we paid extra attention to ensure we have a grow tent package for any budget. So check out your next grow room below!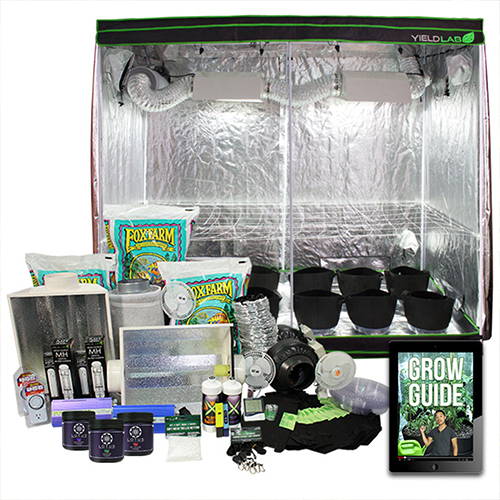 $1,517.71 ⭐⭐⭐⭐⭐ (5 Reviews)
8x4ft HID Soil Complete Indoor Grow Tent System
When you want heavy yields with the highest-rated gear around, 2023's best-selling complete grow tent package is what you need.
Two 600w HID grow lights deliver your plants 121,000-180,000 lumens of light for huge, vigorous growth. The grow tent maximizes light reflection onto plants while insulating your garden and keeping your garden's environment stable. Top that off with up FoxFarm soil and Lotus Premium plant nutrients for complete nutrition from seed to harvest, and you're ready to grow up to 12x big plants.
So if you're ready to start pushing your yields to the max, this kit gives you 32sqft. of space to grow in and kicks out lots of lumens for tons of growth.
✔ Grows 10-12 Plants
✔ Highest yield potential
✔ Duel grow lights offer even footprint across your canopy
✔ 180,000 Max Lumen Output
✔ 1000+ Max PPFD
2x4ft HID Soil Complete Indoor Grow Tent System
This kit is hands down the best- and most affordable- way to grow the harvests of your dreams! It's easy to set up and use, and most important: it won't break the bank.
This kit comes with everything you need to grow 2-4 healthy flowering plants from seed to harvest for under $800. That includes a high output 400w HID grow light, airflow equipment, a heavy duty grow tent, the Lotus Premium Nutrient feeding program, and all the accessories you need to help plants give you the yields you're looking for. And being a soil-based grow room, there are no expensive water costs like with hydroponic systems.
So whether you're a first-timer or a pro grower, this complete tent package is everything a grower needs at a price anyone will enjoy.
✔ Grows 2-4 Plants
✔ Huge Yields for Under $800
✔ Easiest grow tent system to use
✔ 55,000 Max Lumen Output
✔ 534 Max PPFD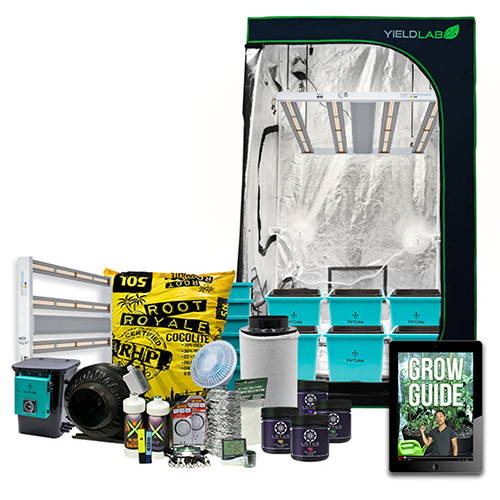 $1,873.71 ⭐⭐⭐⭐ (2 Reviews)
4x4ft LED Hydro Complete Indoor Grow Tent System
When you're looking for huge plants without tons of heat throwing off growing conditions, this is the grow tent package you need.
Its 400w LED grow light gives your plants 1080μmol/s of light with 90% less heat than HID's. Combined with optimal air circulation equipment, this system runs cooler than HID's for less plants stress and smoother growth.
Plus, the AirCube 6 site hydro system feeds plants multiple times a day for bigger growth than soil. And with its Lotus Premium nutrient freeding program, you're in store for giant plants with little to no heat.
So if you find those HID's are too hot for your plants, this system is just what they need to grow their full potential.
✔ Grows up to 6 Plants
✔ Low heat output for more stable conditions
✔ Backed by #1 selling AirCube hydro system
✔ Max PPFD: 1080μmol/s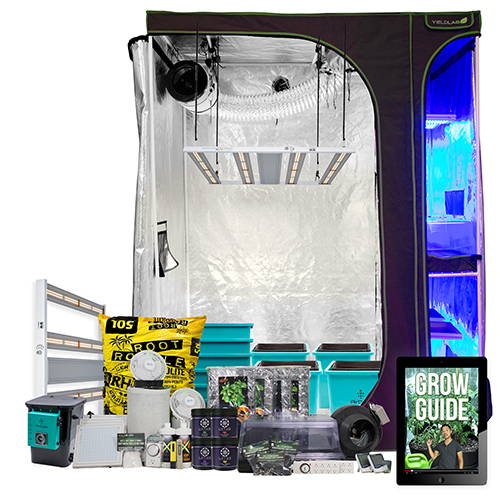 $2,199.95 ⭐⭐⭐⭐⭐ (0 Reviews)
4x5ft Perpetual LED Hydro Indoor Grow Tent System
If you can't afford to take a break in between harvests, this grow tent kit will give you perpetual yields season after season.
Its 2-in-1 grow tent splits your growing space up into two areas: a dual level cloning area, and a main growing area. The main growing area is supported by a 6 site hydroponic system and a cool-running 400w LED for low-temp, high-powered growth. Meanwhile, the cloning area is supported by 2x complete clone and rooting packages to help cut and grow clones for the upcoming season.
Supported by optimal nutrition and every piece of equipment your plants need to thrive, this will give you harvest after harvest without skipping a beat. That means you can seamlessly transition from one harest to another all in one tent.
✔ Grows up to 4-6 Plants and 2x trays of clones
✔ 2x growing areas in 1x grow tent
✔ Max PPFD: 1080μmol/s
✔ Complete clone and rooting package included
5. Best for Advanced Growers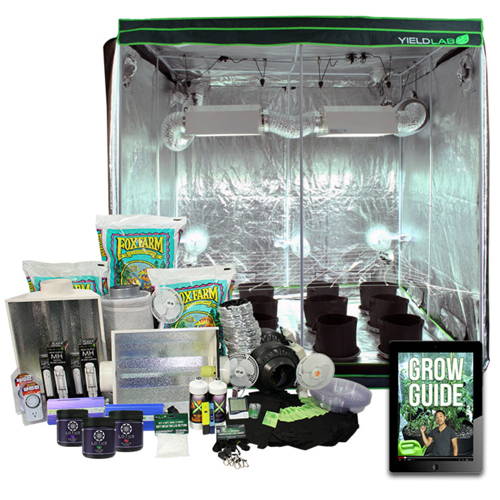 $1,499.95 ⭐⭐⭐⭐⭐ (8 Reviews)
6.5x6.5ft HID Soil Complete Grow Tent System
Rounding out our list is a tried and true grow tent package that's perfect for seasoned growers looking to take their green thumb even further.
Twin 600w cool hoods give you 180,000 lumens of powerful light, while the grow tent gives you 360° light coverage for up to 12 plants. Meanwhile, its 440 CFM ventilation system and insulation keep your grow room environment stable and at optimal levels in any season. And backed by FoxFarm soil and Lotus premium nutrients, your plants have the foundation they need for big growth and bigger yields.
So if you're looking to expand that 4-5 plant grow into an indoor jungle, this setup has the tools you need to make it happen.
✔ Grows up to 12 plants
✔ 360° light coverage
✔ Max PPFD: 900μmol/s
✔ Up to 180,000 Lumen output
What is an Indoor Grow Kit?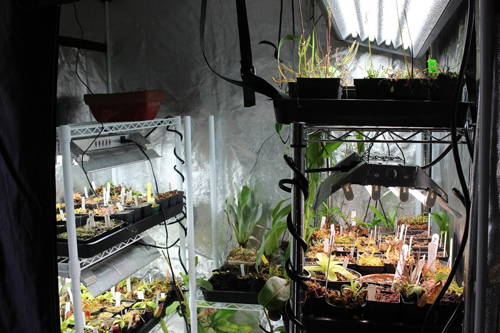 An indoor grow kit, or grow tent kit, is a complete system used for growing plants in any indoor space.
See, unlike the traditional route of building your grow room from the ground up, complete grow kits come with everything you need to get growing, including...
So as you can see, complete grow tent packages take the guess work out of what you'll need to grow your favorite plants.
All you need to do is find your favorite plant, choose the best package for your needs, and get to work.
Why Use an Indoor Grow Kit?
There are plenty of reasons to forgo the tradition route of piecing your grow room and going all-in with an indoor grow kit. From saving money on costs to optimizing growth in ways you never though of, here are the top 5 reasons you should choose a grow tent package ASAP: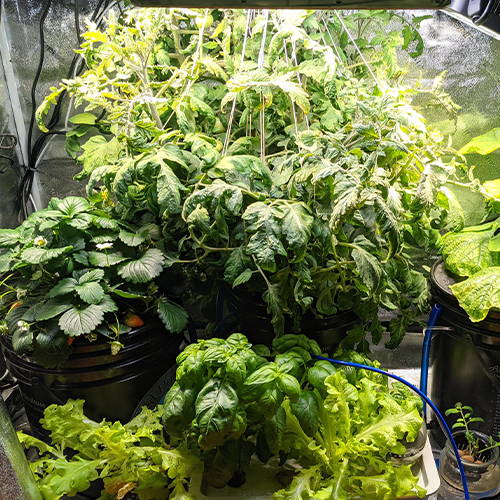 ✔ Takes the Guess Work Out of Growing — With a indoor grow kit, you get every piece of equipment and nutrition you need to grow. In packages like the ones found here, you even get an entire grow journal that shows you everything you need for optimal growing from seed to harvest.
✔ Optimal Lighting and Reflection — The best yields have the best lights, and grow tent packages come with grow lights made to optimize the growing space inside. Moreover, the grow tent helps boost light reflection all around your plants for rich, 360° light coverage.
✔ Stable Environmental Conditions — Plants need stable temperatures and humidity levels to thrive. Grow tents- paired with airflow equipment- help stabilize and regulate your grow room's environment for peak growth.
✔ Saving Money on Costs in the Long Run — All the parts in an indoor grow kit are discounted to keep costs as low as possible compared to those parts outside of a kit. You may save money short-term by cutting upfront costs, but all those short cuts lead to a grow room that's more expensive than it would be in an entire kit.
✔ Avoid Converting Your Entire Room/Closet into a Grow — With an indoor grow kit you won't have to worry about putting holes in your wall or assuring your ceiling is ready to hang equipment. Each indoor grow kit comes with everything you need to safely set up and run your indoor garden.
Which Type of Grow Tent Kit is Best For You?
There's an indoor grow kit for any style of grower, but finding the best for your plants is easier said than done. That's why we broke down each type of system to figure out which is the best for you and your plants:
On top of providing every single thing you need to grow from start to finish (except for plants, of course), there are a few key reasons growers trust GrowAce and our premier line of indoor grow kits:
What Makes GrowAce Indoor Grow Kits Different?
Our Video Guides Help You Thrive From Seed to Harvest- Each indoor grow package comes with our easy-to-follow video installation guide, showing you how to set up your grow room for optimal airflow, lighting, and environmental conditions. Also, our 12 Week Growers Guide takes you week-by-week through the growing process. We show you optimal light cycles, nutrient levels, and environmental conditions for the best harvests possible.
High Quality, Big Value, Small Price Tag- We pride ourselves on offering the highest quality equipment in our indoor grow packages at the best value. We know that a grow tent kit shouldn't break the bank, and that going cheap will only lead to disaster. That's why we offer heavy duty Yield Lab Grow Tents, high quality Yield Lab and Advance Spectrum grow lights, high value accessories, ventilation, and quality nutrition with each kit.
We Offer Industry Leading Warranties on All Components- Not only do we give you all the tools and knowledge to grow big harvests, we back up your system, too. From the 3 year warranty on your grow tent to the 1-3 warranties on grow lights, all the way to the 30 day warranty on all tools and accessories, we make sure your indoor grow kit is made to last for season after season.
What Do Our Customers Have to Say?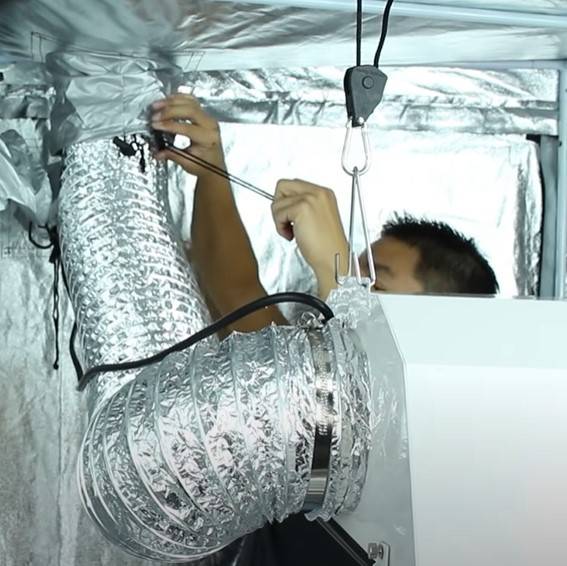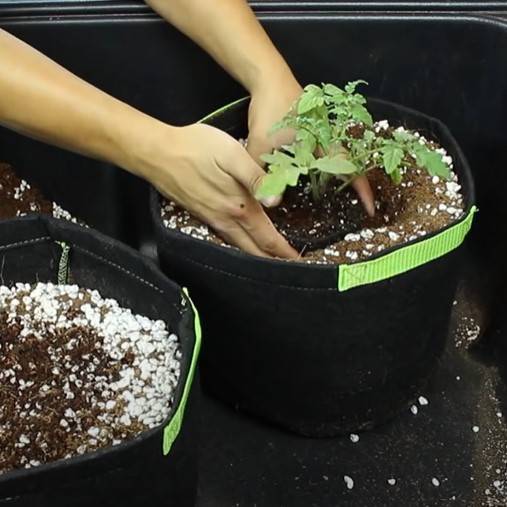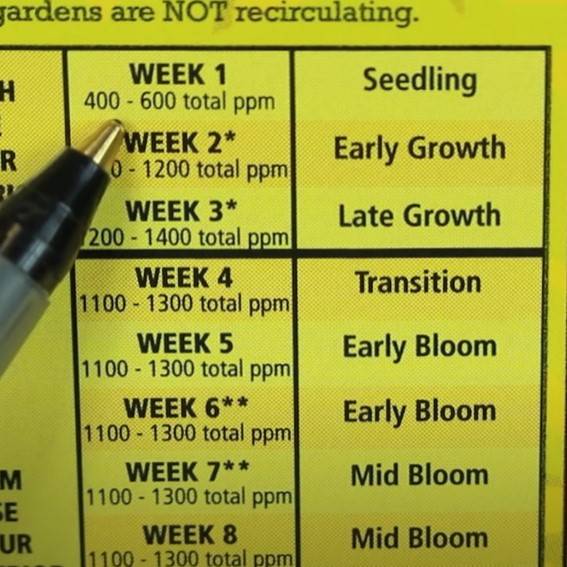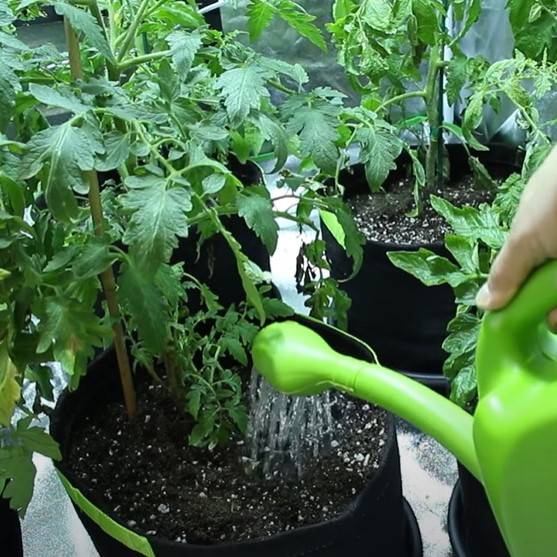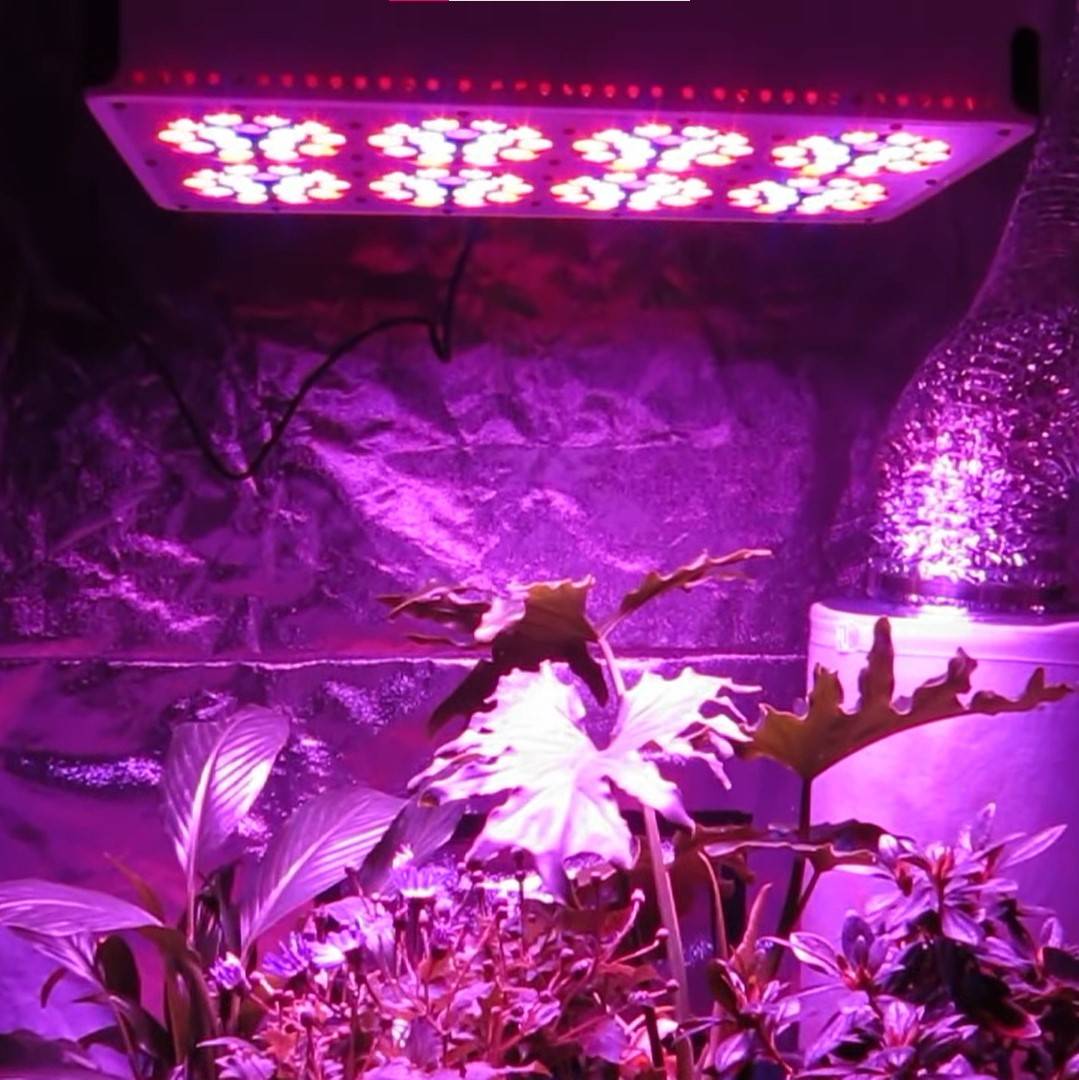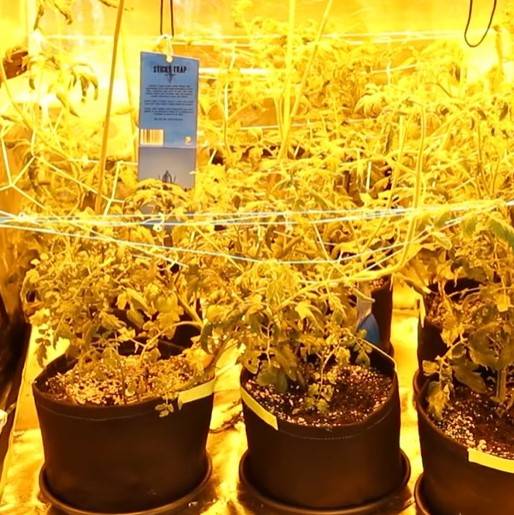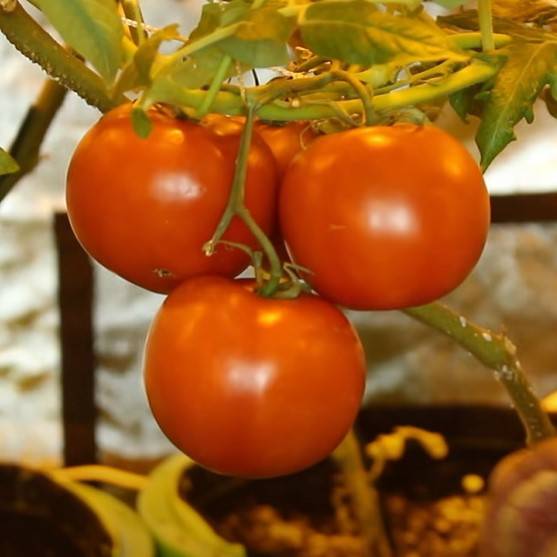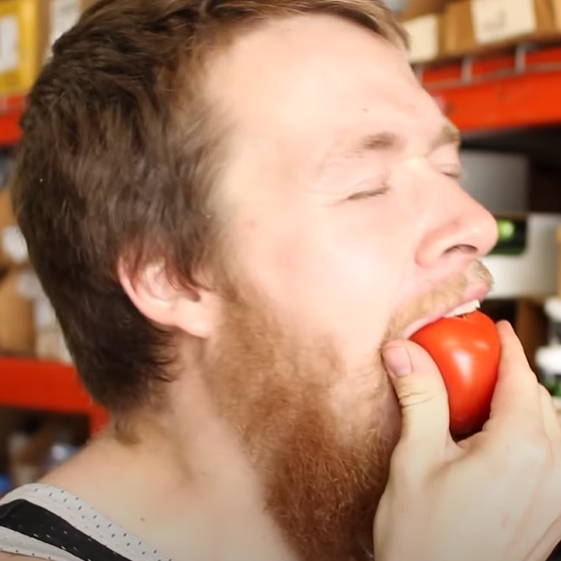 ⭐⭐⭐⭐⭐

"WOW! AMAZING! ASTOUNDING!" - Jed S.
"There are a lot of other words I want to use to describe the 8x4ft HID soil complete indoor grow tent system. I got mine recently and I should say the indoor grow tent is superior in every way be it design, practicality, functionality and of course compactness... I especially loved the plethora of tools that came with the package and the high quality prune pots that let me help my plants grow better and aerate them completely. I used the prune pots and was again astounded by the produce it generated. The holes it has helped the plant to breathe sufficiently and the fabric material somehow promoted quick root growth. My plants are looking healthier as ever in them." 8x4ft HID Soil Complete Indoor Grow Tent System
⭐⭐⭐⭐⭐

"This complete indoor tent is just amazing!" - Amanda W.
"I don't even know where to start. This comes with everything you need to start an indoor grow — and I mean everything! Lights, filters, ducting, everything! You don't have to worry about anything else except taking care of your plants and making sure they take advantage of everything this kit has to offer for great yields! Thank you, GrowAce!" 2x4ft HID Soil Complete Indoor Grow Tent System
⭐⭐⭐⭐⭐

"Top-notch products" - Michael S.
"Truly a complete grow package. Everything worked together, creating an optimal Grow Tent System... extremely durable tent, best nutrients/soil/pots, pH/TDS/PPM testing meters + manual ph test kit (great added touch)... Overall, I'm very satisfied with my purchase. So much that once I save enough money, I might purchase an additional LED setup. Thanks GrowAce Team!" 4x4ft HID Soil Complete Indoor Grow Tent System
⭐⭐⭐⭐⭐

"Definitely would recommend it to newbies!" - Bjorn
"The 6.5x6.5ft HID soil complete indoor grow tent system is an awesome and efficient product! I absolutely love its compact design that makes it take up just the right amount of space at home.... The company certainly keeps gardeners in mind and this is a rare quality to find these days. Every accessory I needed was there, including the usual filters and exhaust fans. Anybody thinking of buying a grow tent package should consider this and probably should keep it first on their list. It is priced just right... Also, they shipped it in good time..." 6.5x6.5ft HID Soil Complete Indoor Grow Tent System
There's an Indoor Grow Kit for Any Type of Grower
A complete indoor grow kit is perfect for anyone who wants to grow fruits, vegetables, and plants in a space other than an outdoor garden. These kits come with everything you need to get growing, and they offer you the versatility to ensure your plants are strong and healthy.
Not everyone can create a grow room using a closet, spare bedroom, or shed. For those folks, an indoor grow tent package is the ideal way to grow plants indoors. Not to mention, the best grow tent kits come with everything you need, so you don't need to make guesses and get things you don't need or miss out on components that are essential.
With the information here, as well as the top recommended grow kits, you should be on your way to acquiring your very own grow kit. Next step: start growing!
Frequently Asked Questions
Q: What type of plants can I grow with a grow tent package?
A: All kinds of plants! If you can grow it outside, chances are you can do so in an indoor grow kit. Whether you want to grow your very own tomatoes, cucumbers, leafy greens, peppers, or flowers, the sky's the limit when it comes to what you can grow inside your very own grow tent.
Realistically, you could even start growing smaller trees in a grow tent — though depending on the tree, you'll likely need to transplant it outside so it can grow to its full potential.
Ultimately, if you want to grow your own fruits, veggies, herbs, and flowers, an indoor grow kit is a great way to do so.
Q: What comes in a grow tent package?
A: The great thing about a complete indoor grow kit is that it takes the guesswork out of putting your growing area together piece by piece. Simply put, the best packages have everything you need to turn your saplings into big-time plants: grow lights, tools, nutrients, growing pots, and accessories.
Moreover, a complete grow tent package will include everything you need to create a livable environment for all of your favorite plants. This includes high output fans and filters for climate and odor control, and timers to ensure you know when your systems are running, and even the grow medium your plants will thrive in.
Q: How hard is it to set up a grow tent kit?
A: Setting up a grow tent kit is easy. All it takes is a little time and planning to achieve the best lighting and airflow combination.
The first thing you want to do before you even set anything up is ensure you have the space for it. Are you installing a grow tent in your closet? Or is it going in a larger room like a bedroom or basement?
Once you're ready to set up your grow tent and equipment, you'll start with the tent poles and tent fabric. From there, you'll install all the necessities including your fans and ducting. Then you can hang your lights in your grow tent and get your pots set up. If you're using a soil system, all you have to do is get your pots filled with soil and then place them in your grow tent.
Hydroponic systems will require a bit more setup, but this mostly consists of connecting your hoses, adding water, and connecting to a power source.
With easy-to-follow video instructions included with each system, even the most intricate indoor grow kit is a breeze to assemble. In fact, you can get a preview of what you're in for by checking out our installation and video grow guide below...
Q: How long should I run an indoor grow kit?
A: In total- from lights to airflow- you're likely to run your system from 12-20 hours each day total.
You'll typically want to run your grow lights at least 10-12 hours per day. That said, some plants may require 16-24 hours of light per day to thrive, while others require much less light, like 6-10 hours. That all depends on the type of plant you're growing, as well as the phase of growth its in (seedling, vegging, flowering, etc...).
The light cycles you run in your grow room go hand-in-hand with airflow. Both high output and oscillating fans help circulate fresh air, strengthen your plants' stems, and keep things from getting too hot. That said, fans run the vast majority of time your lights are on, and a little when they're off.
It's even recommended that you let your fans run a little longer than your lights to avoid residual heat and humidity damage. This is precautionary, so we recommend waiting 20 to 60 minute before shutting off your airflow systems after you've turned off your grow lights.
Check out Week 1 of our 12 Week Grow Guide below. We take you though setting up lights and airflow, and how to start feeding your plants.
Q: Do grow tent packages come with warranties?
They absolutely do! There's a comprehensive warranty on each and every piece of equipment included with our grow tent kits, including...
Yield Lab tents included in a complete grow tent package comes with a 1-year exchange warranty. So if you encounter a manufacturer defect with your grow tent within that first year, you'll be able to exchange it for a new tent.
Advance Spectrum LEDs have a 3-year exchange warranty for defective or non-functioning parts. So if, for example, one of your diodes goes out within that time frame, we'll be glad to send you a replacement diode (or whichever component stops working properly).
Yield Lab HID grow lights have a 3-year exchange warranty on ballasts, 1-year exchange warranty on grow bulbs, and 30-day exchange warranty on reflectors and other components.
Other small parts such as fans, filters, ducting, and pots have a 30-day exchange warranty for damaged or defective parts.
Q: How much does it cost to run a grow tent package?
A: There are a few variables when it comes to calculating the cost of running a grow tent. If you're using HID grow lights (HPS and MH bulbs), for example, you'll use more energy than you would with LED lights, and you'll need more ventilation equipment since HIDs run hotter than LEDs. As such, LED grow lights will save you money over time compared to HID grow lights.
In addition, all of the equipment you run has to be factored in. So if you're running multiple lights, multiple fans, and controllers, this will reflect on your electric bill. Not to mention, running a hydroponic system is more costly than using soil, because hydro requires a power source to run. The cost of running a grow tent also depends on the area you live in, as well as seasonal electric rate changes.
Ultimately, though, calculating the costs of grow tent usage requires you to measure the energy used in kilowatts per hour (KWH). Keep in mind that 1 kilowatt equals 1,000 watts. You'll take this amount and multiply it by the rate your energy provider charges you for your energy consumption.
For example, say you use a rate of $0.12 per KWH for a system that would run you 781 watts per hour (or 0.781 KWH), you'd be looking at $44.98 per month.
That said, this is a very specific example. To find the costs for your bill, you'll want to consider the rates your energy provider charges you, as well as the total energy consumption of all your grow room equipment.
For more on electricity costs for grow kits, see our guide to calculating your electric bill when using HPS grow lights. And if you want to know how to save on your bill, see our tips and tricks for a lower grow room electric bill.
Q. How long does a grow tent package last?
A: The longevity of a grow tent package depends on you. If you take care of your tent, fans, and other equipment, they'll last you a very long time, and you'll get several plant growth cycles out of them.
If, however, you're constantly moving your equipment, tearing down and putting up your grow tent frequently, or you're just not careful with it, you'll see noticeable wear-and-tear much sooner.
It's also worth noting that there are some pieces in your grow kit that naturally won't last forever. Eventually, you'll have to resupply on things like nutrients and soil or other grow mediums.
In addition, equipment like fans, electronics, and hoses won't last forever. Just like you'd replace a fan in your living room or a hose in your backyard after extensive use, you'll have to replace some equipment eventually — though taking good care of it will certainly ensure it lasts you a long time.
Editor's note: This post was originally published in September 2018. It has been updated for accuracy and comprehensiveness as of July 2023.