Welcome to our annual list of top grow tents! With over 12 years of experience in the growing industry, a large number of inquires we answer ask, "What's the best grow tent for my plants?" And the answer is always the same: it depends.
Choosing the right grow tent for your plants depends on how many plants you want to grow, the amount of space you have for a tent, the equipment you need to grow, and your budget.
That's why we got to work testing out a number of grow tents. By compiling grower reviews, features, plant capacity, strength, and overall quality, we've put together our list of the top grow tents of 2022 for any budget and need.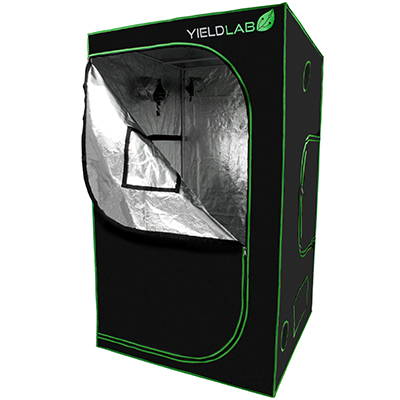 $229.95 ⭐⭐⭐⭐⭐ (10 Reviews)
Yield Lab 48" x 48" x 78" Grow Tent
If you're looking for quality, practicality, and value, this grow tent is what you're looking for.
This tent can house up to 4 plants from seed to harvest. The metal frame can hold up to 176 lbs of grow equipment, while its Oxford cloth cover gives you optimal insulation to maintain peak environmental conditions.
And with 100% reflective mylar walls, your plants receive 360° light coverage whether you're using LED's or HID's. So no matter what light you use or how many grows you have under your blet, this tent gives you the perfect conditions to grow any plant you can think of.
✓ Houses up to 4 Flowering Plants
✓ Square Footage: 16 sqft.
✓ Storage pouch and front bay viewing windows included
✓ 7x active air ports & 3x passive air vents for peak ventilation
✓ Perfect for 400w & 600w HID grow lights (or LED equivalent)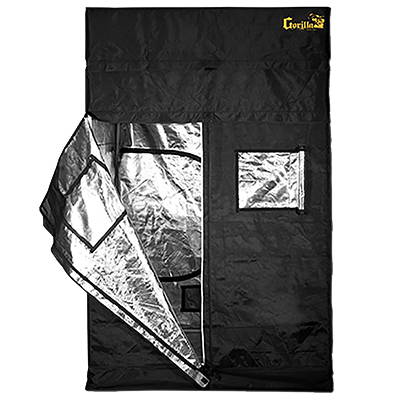 $350.06 ⭐⭐⭐⭐⭐ (7 Reviews)
Gorilla Grow Tent 60 Inch x 60 Inch
If you use heavy duty equipment grow your favorite plants, this is the grow tent you need.
With 25 sqft of room for 5-6 plants, you'll need strong lights and big filters for vigorous growth. That's why this tent's solid metal frame can hold up to 300 lbs of weight. And with a 12" height extension available (sold separate) you'll be able to fit as much equipment as you need to maintain your grow.
Its 1680D cover with diamond mylar reflective walls give your plants optimal light coverage and insulation. So if you've got weighty growing equipment, this is the tent you'll need to keep them safely over your plants for efficient growth.
✓ Houses up to 6 Flowering Plants
✓ Square Footage: 25 sqft.
✓ Holds up to 300 LBS of growing equipment
✓ 12-24" Height extensions available for extra tall plants
✓ Perfect for 600w HID grow lights (or LED equivalent)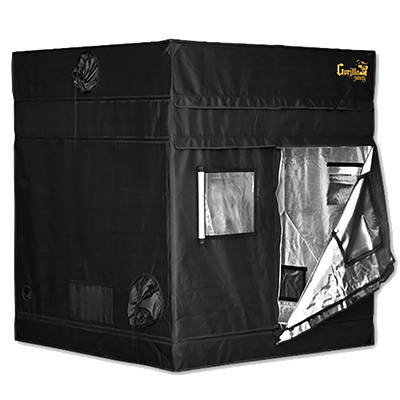 Gorilla Grow Tent SHORTY 5' x 5'
When you want a grow tent but your ceilings are shorter than most tents allow, this is the one you need.
Standing at only 4'11" in height, this tent fits in spaces other grow tents can't. Despite its height, you have enough space to grow up to 5 plants. And with its patented Gorilla frame, this tent can hold over 250 lbs worth of equipment, which you'll need in such a confined growing space.
The 100% reflective mylar walls inside give your plants 360° of light coverage, while preventing light and air leaks. So if you're big on plants but short on space, this is the tent you need.
✓ Houses up to 5 Short Flowering Plants
✓ Square Footage: 25 sqft.
✓ 12" shorter than other tents to fit in places other tents can't
✓ 9" height extension included for a total height of 5ft 8in.
✓ Perfect for 600w HID grow lights (or LED equivalent)
4. Best Perpetual Harvest Tent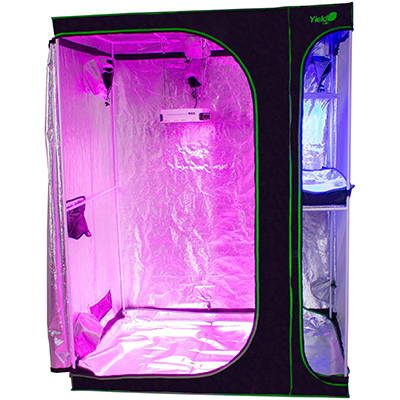 Yield Lab 60" x 48" x 80" 2-in-1 Grow Tent
If you want want truly perpetual harvests, this is the grow tent you've been looking for.
The 20 sqft of room in this tent is split in two sides: a seedling and clone chamber, and another for growing young seedlings/clones to harvest. The cloning chamber can grow up to 4x trays of seedlings and clones, while the growth chamber can grow 2-4 plants. And once they're harvested, you can transition your grown seedlings/clones into the growth chamber while starting a new round of clones or seeds.
So if you want to stop talking about year-round harvests about start making them happen, this is the grow tent for you.
✓ Houses up to 2-4 Mature Plants & 4x Trays of Clones
✓ Square Footage: 25 sqft.
✓ 2-level clone room to propagate plenty of seeds and clones
✓ Light-proof barrier ensures no light will leak into either chamber
✓ Perfect for 400w HID grow lights (or LED equivalent)
5. Best Compact Grow Tent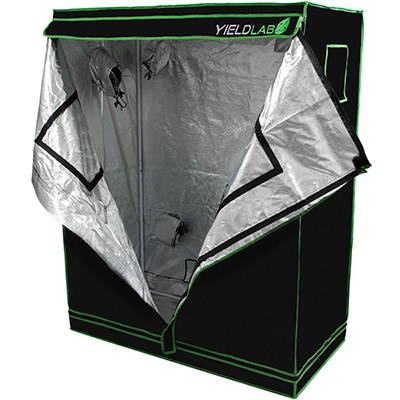 $159.95 ⭐⭐⭐⭐⭐ (16 Reviews)
Yield Lab 48" x 24" x 60" Reflective Grow Tent
When you're pressed for space to grow in, this grow tent can fit inside nearly any closet or confined space for covert growing.
At only 2x4ft, this slim grow tent is perfect for growing up to 3 plants. A total of 8 passive and active air ports help keep temperatures at peak conditions. Its sturdy metal frame can hold up to 110 lbs, which is more than enough for grow lights and ventilation.
The 100% reflective mylar walls inside and a 210D Oxford Cloth cover outside offer 360° light coverage and optimal insulation. So if you can only grow a limited number of plants in a limited space, you want this grow tent.
✓ Houses up to 3 Plants
✓ Square Footage: 8 sqft.
✓ Perfect size and shape to be kept out of sight for covert growing
✓ 5x active air ports & 3x passive air vents for optimal compact airflow
✓ Perfect for 400w HID grow lights (or LED equivalent)
6. Best Large Scale Grow Tent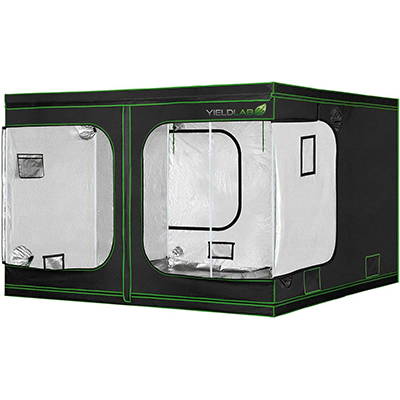 Yield Lab 120" x 120" x 80" Grow Tent
In a grow tent this large, you can grow as many plants as you can handle and yield harvests you never thought possible.
With over 100 sqft of room to grow in, you can raise and harvest up to 12 mature plants. Its mylar walls plants will receive 360° of lighting, while its tear-proof cover keeps your growing environment stable. Moreover, it offers over 18 air vents help to keep temperatures and humidity levels at peak conditions.
With a weight capacity of over 150 LBS, and 4x extra large doors to make plant maintenance easy, this tent is ready to start giving you the yields of your dreams.
✓ Houses up to 12 Flowering Plants
✓ Square Footage: 100 sqft.
✓ Heavy duty frame and connectors hold 110lbs per bar
✓ 14x active air ports, 4x passive air vents for tons of airflow
✓ Perfect for 600w and 1000w Double Ended HID grow lights (or LED equivalent)
7. Best Warehouse Grow Tent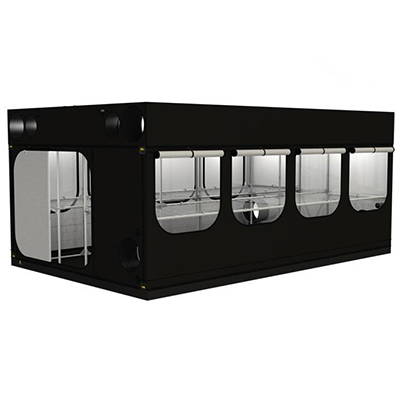 $2,015.95 ⭐⭐⭐⭐⭐ (0 Reviews)
Secret Jardin Intense 480 v3.0 (16' x 8' x 7')
Now, when you want to get into massive warehouse growing, this is the grow tent you want.
This tent offers an astounding 128 sqft of room to grow in, which is enough to house up to 16 plants. Its 210 Stainless Steel frame is ready to hold 165 lbs worth of grow lights, carbon filters, fans, and ducting. And with 14 duct port and pre-installed vents, there's no shortage of airflow.
And to guarantee the largest yields possible, this tent even comes with free trelling netting to help train plants. So if you're looking to get into the world of warehouse growing, this grow tent is a mobile warehouse in itself.
✓ Houses up to 15 Flowering Plants
✓ Square Footage: 128 sqft.
✓ Free trellis netting included for plant training and maximum growth
✓ Roll-up windows allow you to easily tend to plants
✓ Perfect for 600w and 1000w Double Ended HID grow lights (or LED equivalent)
8. Best Grow Tent for Clones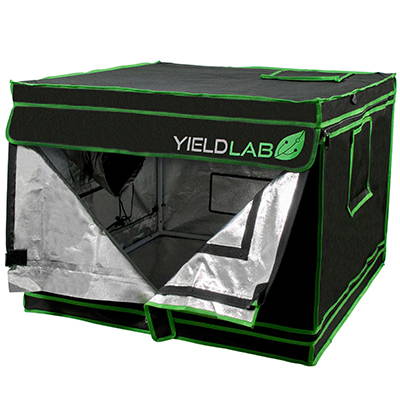 $119.95 ⭐⭐⭐⭐⭐ (4 Reviews)
Yield Lab 32" x 32" x 24" Grow Tent
When regular grow tents are too tall to efficiently grow clones and seedlings, this is the perfect tent for you.
In its 6 sqft growing area, you can grow 2-3 trays of clones and seedlings. And at 2ft high, you don't have to worry about lowering your grow light down to the floor to grow clones. In fact, with its 100% reflective lining, clones and plants will get all the light they need from a T5 or low watt LED grow light.
So if you want full control over your clones and tired of using makeshift risers to give clones and seedlings light, this is the grow light you need.
✓ Houses up to 2-3 trays of clones
✓ Square Footage: 4 sqft.
✓ Segregated area for your clones and seedlings to thrive in
✓ No need to raise/lower primary lights to meet plants
✓ Perfect for 25-50w LED's and T5 grow lights
In basic terms, a grow tent is a tent used specifically to grow plants in.
"But can't you use any tent to grow plants in?" Yes you can. However, what sets indoor grow tents apart from other plant coverings- say, a green house- are that it's optimized for growing plants indoors.
This is largely in part because of their frames and their covers:
Grow tent frames are made to withstand at least 100 lbs of weight. Grow tent frames are made to hold lots of weight to ensure lighting and other growing equipment can hang safely above plants.
Grow tent covers have a dual function. The exterior cloth is designed to prevent light from leaking while keeping your growing area insulated. The walls, ceiling, and floors inside are lined with mylar film to reflect light onto your plants for optimal lighting.

They're also outfitted with ventilation ports for duct fans and carbon filters for optimal airflow and ventilation. Most grow tents also come with passive vent ports that allow air to freely travel in and out for even fresher air in their grow rooms.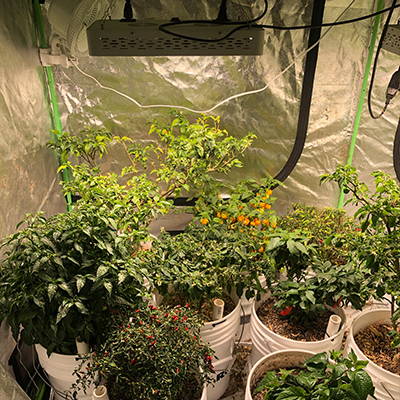 Setting up a grow room can be costly, and unless you're a contractor there's no guarantee your home will be ready for a grow room. That's why grow tents are the best option for growers, whether you're used to indoor growing or you're an outdoor grower.
But aside from avoiding a costly building fee, there are 5 great reasons you should use a grow tent:
✓ Reliable, Stable Growing Environment- Growing outdoors can lead to unstable growing conditions that can throw growth off. In a grow tent, however, you have the ability to dial in your plant's specific needs and keep them at optimal levels. From light cycles to temperatures and environmental conditions, growing in a tent will give plants a stable environment to thrive in, ensuring maximum results.
✓ Grow in the Space You're Already Using- If you're in an apartment or a home without a yard, growing plants outdoors is nearly impossible. That's what makes grow tents so great: you don't need an outdoor space to grow plants. Just set up a grow tent, use the right grow room equipment, and your room has a whole garden tucked away.
✓ Avoid Building an Entire Grow Room- Converting a bedroom into a grow room cost more money than using a grow tent, especially for renters that need to repair any alterations to their home. However, with a grow tent you don't have to anchor hooks for grow equipment or tack reflective material on your walls. They come with everything to provide the best environment to grow in, all you need are the plants and your favorite grow gear to get started.
✓ Portability and Mobility- Grow tents give you a mobile grow room. With breakdown and setup way easier than an entire room, you can make changes to your growing area when you see fit. So whether you're moving from one place to another, or you find a more optimal area on your home to grow in, a grow tent can be easily moved wherever it need be.
✓ Plant Protection- If you've got unwanted visitors poking around your garden, a grow tent is a great way to keep them out. With walls blocking views from outside and the ability to use carbon filters to block smell, you can keep your indoor garden safe from neighbors, pets, and pests. So whether you're doing more covert growing or pest control to avoid turning your plants into a bug buffet, a tent is the best way to assure your plants stay safe.
Which Grow Tent is the Best Size for Your Plants?

There's a grow tent for every grower out there, but you've probably noticed that there are tons of sizes to pick from. So we broke down your options into four categories to help you find the best size for your needs:
Why Choose GrowAce Grow Tents?

We provide the best lifetime support and customer service in the industry. No matter if this is your first grow tent or your 100th, we're here to make sure it's able to give you the harvests you're after. Our live and online grow room experts will help you find the best grow tent for your plants, and help you through every step of the growing process. From set up to growth, we'll make sure your grow tent is in peak growing condition for life.
We offer the best range of grow tents in the industry. When we say we have a grow tent for every grower, we stand behind it. Whether you're a closet grower with a small budget, a pro grower with a large one, or you fall somewhere in the middle, we've got a tent for you. And best of all, we assure all grow tents we offer are tested for quality and longevity no matter their price tag.
We offer the best warranty on grow tents. Our warranty coverage is the best in the business. In fact, each Yield Lab grow tent comes with an industry-leading 3-year warranty. Moreover, each Yield Lab grow tent we offer comes with our 120 Day Satisfaction Guarantee to ensure you have the best experience growing from the moment you receive your grow tent.
What do growers have to save about GrowAce Grow Tents?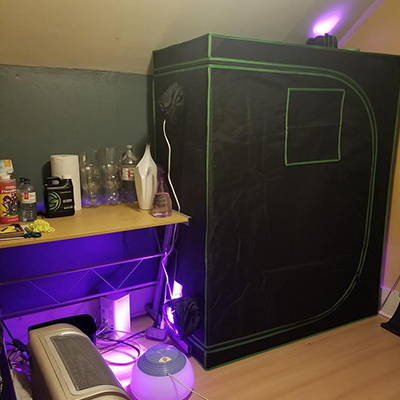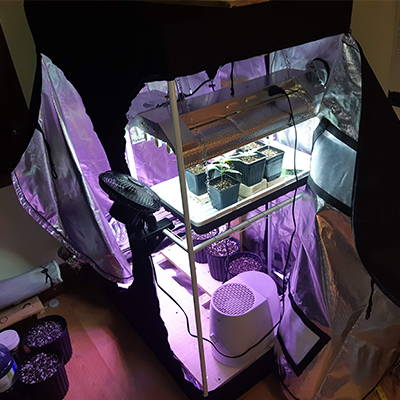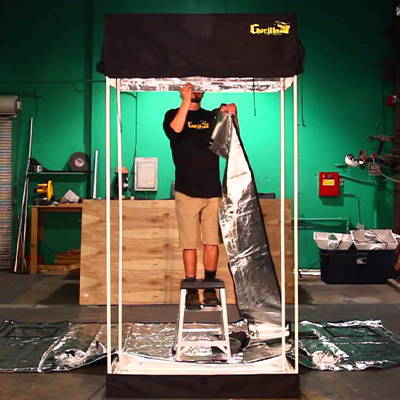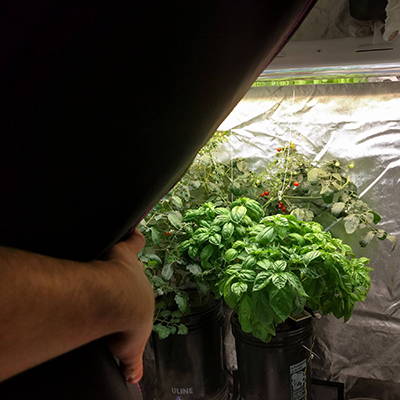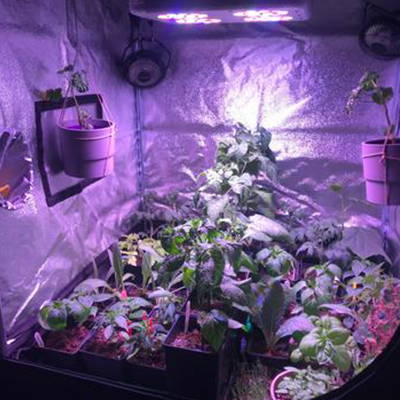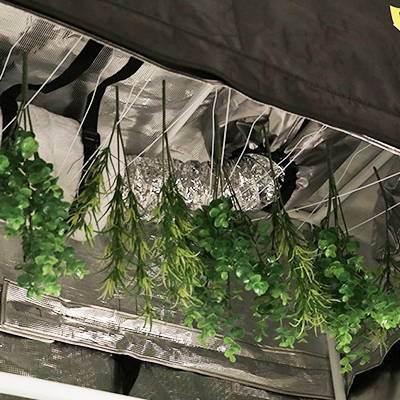 ⭐⭐⭐⭐⭐ "Best Investment I have made" - Jim A.
As a first time grower, I was kind of obsessive with everything I needed for my grow. After looking at other brands, GGT was hands down the best I could find. The construction is amazing, the weight of the material blew me away. This tent is going to last a very long time, and well worth the price.
I kind of thought the 5x5 would be too large, but on setting it up, it's perfect. Lots of room for the plants without crowding. This beast is also light tight, no pinholes or gaps. Every detail looks to be well thought out.
⭐⭐⭐⭐⭐ "More than enough for the money" - Gordon M.
Who would have thought you get all these amazing features on a budget tent? The materials are solid and inner lining is reflective, it has viewing windows, Velcro straps, and water proof! I have harvested excellent yields in the past year using this tent and I'm never looking back! Thanks GrowAce!
"You just outdid yourselves with this Yield Lab tent!" -Sonny W.
⭐⭐⭐⭐⭐ "You just outdid yourselves with this Yield Lab tent!" - Sonny W.
GrowAce, I can't compare yours to the more expensive brands out there. Pound for pound, features and the quality of this tent is the best! I've had excellent yields using this tent and I couldn't be more happier!
⭐⭐⭐⭐⭐ "Easy to assemble and use" - Jeff S.
Tent was easy to put together. The tent will fit tight on the frame so work the corners a little at a time until they fit tight in the corners of your tent. It took me 35 minutes an one cup of coffee to put it together. Happy growing.
⭐⭐⭐⭐⭐ "Should've gone with Yield Lab sooner..." - Ryan B.
Not my first tent but it looks like it will be my last! Really well built and no more sway when loaded with my equipment like my last two tents. Wish I bought Yield Lab first and didn't waste my money on my other tents. This is the last tent I'll need.
Choosing the Best Grow Tent For Your Plants

Grow rooms are great, but an indoor grow tent gives you better control over your indoor garden. And aside from giving you more a controlled environment to grow in, a tent opens up growing to a whole group of people who don't have access to yards.
The only tricky thing about them is finding the right one for you. But when you take a look the features we've highlighted in this guide, you'll be able to find the exact grow tent your plants need.
Remember: there's a grow tent available in virtually any size for any type of grower. Just take the lessons you've learned here, find the tent you need, and start growing the harvests of your dreams.
Frequently Asked Questions

Q: What's the best grow tent to use?
A: The best grow tent to use is the one that safely houses your plants, prevents air and light leaks, optimizes light, and has the strength to hold your growing equipment.
As you can tell, all the tents on our list check all of those boxes. So how are you supposed to choose the best one?
When your options hit all the marks, the last thing to do is choose the best size for your plants. So here's a quick rundown of the most common sizes and how many plants fit in each:
2x4ft tents can house 1-3 mature plants

4x4ft tents can house 3-4 mature plants

5x5ft tents can house 4-5 mature plants

6x6ft tents can house 5-6 mature plants

7x7ft tents can house 6-7 mature plants

8x4ft tents can house up to 8 mature plants
Q: Where do I set up a grow tent in my home?
A: There are two important factors in figuring out the best placement of your grow tent: access to electricity and access to airflow. No matter if you're in a basement, a bedroom, or an attic, if the area has these two elements you're off to a good start.
Electric Accessibility-

Most homes have 15 amp breakers that can handle 1800-2000w of power. So when it comes to electricity you'll need to ensure your growing area has large enough breakers for all of your equipment. That includes your grow light ballast, fans, and any other equipment that draws energy. To figure how much you'll be using, simply look at the wattage draw of each piece of equipment you plan on running and add them together.

Airflow Accessibility- While not absolutely necessary, windows in the room you're using will help bring in fresh air for your plants. Without a window, you run the risk of circulating stale air throughout your grow. So when possible, it's best to set up a grow tent in a room with windows.
Q: How hard is it to set up a grow tent?
A: Grow tents are simple to set up! Even at their largest, construction is as simple as connecting poles together and laying the cover.
While larger tents may be require more hands, grow tents don't require special tools or skills. If you've got the time and the space, setting up a grow tent is simple.
And once it's all set up, all you have to is install your lights and ventilation. In fact, to show you have easy setting up a grow tent can be, check out our setup guides below:
Q: Can a grow tent be used outside?
A: Technically, a grow tent can be used anywhere to grow plants, including outdoors. But the reason grow tents were invented was to eliminate your reliance on outdoor conditions.
Unfortunately, outdoor conditions like heat will make the environment in a grow tent hard to regulate. And that's not mentioning the strain rain and wind will put on your tent and the equipment inside. Moreover, to light and ventilate a grow tent takes a good amount of energy, which means you'll need to string lots of cords out to your grow tent.
All seems like a bit much to do just to use a grow tent, doesn't it? It is. That's why we recommend only using grow tents indoors as intended.
Q: Are grow tents smell proof?
A: Grow tents aren't inherently smell-proof, as most have passive airports that allows air to travel freely in and out of the tent. However, they can prevent odors from creeping into the rest of your home by using a carbon filter and an exhaust fan.
An exhaust fan pulls the air inside your grow tent- which contains odors, stale air, and unwanted particles- and pushes it away from your garden.
That air is then sent through a carbon filter where odor and other particles adhere to the charcoal medium inside.

When air leaves the filter, the air is odor-free.
So while grow tents may not be smell-proof, there's an easy way to make sure what goes on inside your grow stays between you and your plants.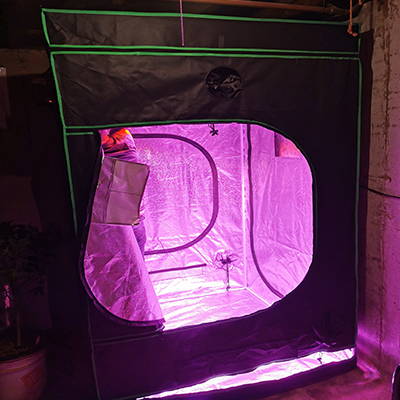 Q: How many grow lights can I use in a grow tent?
A: The rule of thumb for grow lights is to have no more than 8 plants under a single light. That means most tents only need one light for your plants to thrive under.
But this rule doesn't account for large coverage areas, nor does it account for PAR or intensity that your plants need to thrive. So in order to find the right number of grow lights for your grow tent, it's important to consider the size (i.e. wattage) of those lights, too.
Here's a quick cheat sheet of grow tent sizes and their optimal lighting:
For large tents like 8x4ft or 10x10ft will want to use 2x or more lights. Most times, 600w or 1000w lights are used for optimal lighting. However, it's not uncommon to add more lower-wattage lights to give you a large, soft but affect light footprint for your plants.
So to figure out what it's vital to consider what PAR your plants need. From there you'll want to figure out which light(s) give you that PAR, and how many lights you need to achieve your grow goals.
Q: How do I regulate the temperature and humidity in my grow tent?
A: The environment inside your grow tent is regulated by your ventilation system. So when regulating the temperature and humidity levels in your grow tent, just configure your fans to maintain optimal conditions.
While plants have varying environmental requirements, maintain those conditions is the same in any grow room are the same:
If you're not doing so already, invest in a timer or a controller. These will regulate when your fans run instead of running them 24/7 or guestimating run times.

To lower temperatures, increase the speed of intake fans to bring in air and exhaust fans to push air out quickly.

This will also lower your humidity levels, so be careful you're not getting rid of too much air and moisture.

To raise temperatures, reduce the speed of your fans so that warm air stays in your growing area longer.

Doing this will also raise humidity levels, so make sure your fans are able to get enough air and moisture out of your grow tent before things get too sticky.
Q: Are there warranties on grow tents?
A: Absolutely! All Yield Lab grow tents come with an industry-leading 3 year warranty against manufacturer defects. Secret Jardin and Gorilla grow tents come with a minimum 1-year warranty. Just contact us and we'll get your replacement part(s) shipped to you ASAP so you're up and growing quickly.
Editor's note: This post was originally published in October 2018. It has been updated for accuracy and comprehensiveness as of May 2022.